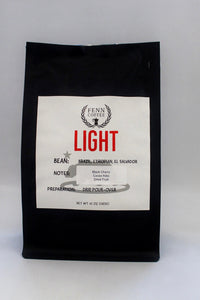 Origin: Brazil, Ethiopia, El Salvador (rotate and accept request for these specific origins) 

Notes: Black Cherry, Cacao Nibs, Dried Fruit

Limmu Kossa Estate is a large family-owned farm location in the jimma zone of the Oromia region in Ethiopia. The farm was establish in the year 2000 and currently
produces coffee on 356 hectares across two farms, employing around 700 people during harvest. Limmu Kossa is committed to using modern and environmentally responsible farming techniques to produce high-quality coffee. Additionally the farm is active in their surrounding community constructing an 8km dry-weather road and three classrooms at the local elementary school.
10 oz  
One bag is about a one week supply for 1-2 coffee drinkers.