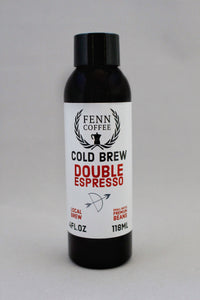 This is arguably our most important product and where Fenn Coffee began.
Tired of the GI issues from using traditional energy gu's and drinks, our CEO and Founder created the Cold Brew Double Espresso Shot for long races and training rides.  Months of testing perfected this low-acidity, high caffeine drink brewed as 4 oz shots making an ideal drink for elite competitors.
This six pack of pre-made shots will keep you fully supplied for your next challenge, ready to take on the world.  These espresso shots make a great compliment to any subscription to compliment our artisanal blends, allowing you to fully live the Fenn Coffee experience.